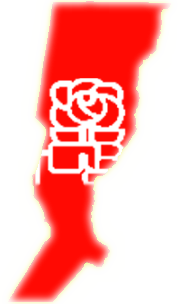 What a weekend! I'm into politics, but I was waiting for this election in particular for personal reasons. I'm an employee of the provincial state of Santa Fe, so the governor election meant the citizenship was ultimately going to elect my boss, and the outcome could radically change my working conditions.

Well, the short version is: Hermes Binner won the election against the Rosario-born, porteño deputy Rafael Bielsa with a 10% overall difference. In Rosario, mayor Miguel Lifschitz was reelected, beating the repeatedly sold-out former Socialist mayor Héctor Cavallero by such a wide margin Cavallero didn't even bother to appear in public to protest.

The Front for Victory (Kirchner's version of the Justicialist Party) lost the governor election in great part thanks to Rosario's votes. It also took several surprising hits, losing its grip on several important cities that had been ruled by Peronists for years or decades, such as Santo Tomé (near the capital, pop. 60,000), San Lorenzo (30 km north of Rosario, pop. 45,000) and Villa Gobernador Gálvez (right south of Rosario, pop. 75,000). The biggest and quite possibly painful surprise was the provincial capital itself, where the Socialist Mario Barletta beat both the Front for Victory candidate Martín Balbarrey (seeking reelection) and the "dissident Peronist" Oscar Martínez. Starting in December, five of the seven largest cities in Santa Fe and more than half of the population will be ruled by Socialists.

Those were the objective numbers. Now the impressions... What I got from most people was simply relief, the comforting realization that a dynasty of mediocre opportunists was ending, the sudden awareness of this turn of events. Binner is the first Socialist governor in the history of Argentina, but it's obvious to everyone that he was voted by many people who wouldn't call themselves Socialist. Others don't like him very much, and many outside Rosario surely don't really know him at all, but voted against something: the crude inability of the Peronists to do anything but clinging to power (even as they fight among themselves for it), the aggressive language and derisive manners of a candidate that tried to pass for one of us when he hadn't set foot in the province for two decades, the plain realization that anything but a radical change would mean four more years of flat, uneventful decadence or, at most, vegetative growth. Four more years, after 24 years of corruption, of judges on the payroll of the party, of a police force stained with a string of unpunished crimes, of friends turned government officials who have no idea to do what they're supposed to do, of fundamental laws delayed and then passed and ignored, of callous indifference to the suffering of millions, of the State turned into a section of the Party. That was too much.

Another impression I got was that Rosario was the lever that moved the election. With almost one-third of the population of the province, the landslide victory in Rosario was important for the overall result, but I'm speaking of comparisons and imitations. People are not stupid. Rosario serves as proof that, while unable to work magic, a good administration can improve the citizens' quality of life a lot, even without help from the provincial state, and beyond the mere recovery of employment and consumption that follows automatically from a high economic cycle. Thus it shouldn't be surprising that the two largest cities in the Greater Rosario area changed hands last Sunday. San Lorenzo, an industrial port city, has an enormous untapped potential and a government that wasn't up to the challenge. Villa Gobernador Gálvez, next to Rosario, could not but watch with envy as the neighbouring metropolis flourished while a mafia government led directly or by proxy by a violent, uneducated thug continued to win elections.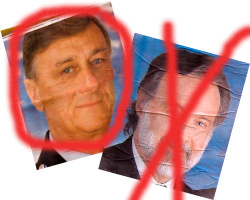 Last night, minutes before Rafael Bielsa spoke to acknowledge his defeat (which he took ages to do), a dozen of cars with people waving Socialist flags (red and white, with the fist and the rose in the center) raced along my street, throwing confetti and honking their horns. I went up the roof to wave at them. Bielsa spoke then, and rather predictably he assumed all the blame. He thanked all his political patrons, from the president down, for lending themselves to the campaign, but apparently forgetting the 360,000 citizens that voted for him. Well, at least he didn't imply the rest of us were stupid, like Filmus did in BA. Binner's speech came minutes later, after shorter admonitions by Lifschitz and by vice-governor elect Griselda Tessio. The guys with the flags were already in his headquarters at the Patio de la Madera. Binner spoke in measured tones, remembering historical characters of the parties of the Progressive Front, and attacking no-one directly; the young militants, though, booed governor Obeid's and president Kirchner's name when they came up (Binner was saying that both had politely called to congratulate him), and quite loudly told the Peronists to shove their purposefully biased pre-election surveys up their collective asses.

And then that was it. The numbers continued arriving, and as more data from the bigger cities were input in the system, the difference between Binner and Bielsa widened. It didn't matter anymore.

We now have three months to wait. Binner is meeting with Obeid today to talk about the transition. Obeid, I think, will listen, and won't do anything stupid. He's an old politician, and he's on his way out.

What can we expect? Well, first of all, autonomy for Rosario!



Media coverage in Spanish: La Capital, Página/12, Rosario/12, Rosario3, La Nación, Clarín; in English: CNN, Buenos Aires Herald