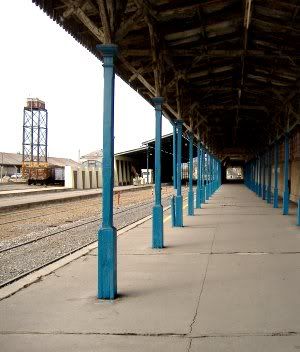 The train's coming back!
There's currently a weekly train service between
Rosario Norte Station
and
Retiro
, operated by
Trenes de Buenos Aires
(TBA). I've never seen it (not strange, given its frequency) but I've been told it's not only slow (7 hours to do 300 km) but also not in good condition, and rather dirty. However, a ticket is only AR$17 in "first class" (do note the quotes!) and thus extremely cheap, compared to the luxurious, fast, comfortable, but pricey bus services given by a number of companies, notably the AR$39 service of
El Rosarino
.
The national government has just bought a convoy from Spain, as part of the National Railway Recovery Plan (sounds like a good plan, but this is the first time I've ever heard of it, so it mustn't be doing lots of things around here — how odd is that!). Starting in mid-September, it'll be doing the Rosario–Buenos Aires route daily. It's a three-coach train with a diesel locomotive, with a capacity of 228 passengers. It has air conditioning and reclining seats. Since the railways are not well-maintained outside Buenos Aires, after
Zárate
(they're prepared for cargo traffic only), the train can only reach its maximum speed of 120 km/h within a small segment of the route, and the trip will take about 6 hours (depart from Rosario at 6 AM, reach Retiro at noon, depart from there at 6:30 PM and return to Rosario Norte around midnight).
Six hours in a luxury train seems fine to me. Quite logically the ticket "will be raised somewhat", according to the diplomatic language of TBA's authorities. Considering, however, that the bus ticket will go up soon as well (to AR$44 pesos as announced), and that the train is much safer and more comfortable (and romantic, if you're into that), the price would have to triple in order not to be attractive and competitive.
I'm looking forward to travelling on this train, as I last did when I was a child, in better times.