Last Saturday was the monthly meeting/safari of the Rosarigasinos photographers' group (pictures?). I think there were about 20 of us this time. It was held in Granadero Baigorria, a city of 45,000 located just north of Rosario, in what a porteño would call el conurbano. We decided on it because it was nearby and there are several baigorrienses in our group. Like a dreadful swarm we descended upon a number of significant spots in the city, including a famed restaurant where we consumed a most welcome pasta lunch. The day was extremely cold and windy. The sun didn't come out from behind the clouds. Much merriment was had, and abundant photo-picturing was achieved, nevertheless.

Our main destination was the natural reserve. Saying it was neglected would be an understatement, unless by "natural" you mean "forgotten by mankind". Despite the garbage and the lack of care, it's a nice little place by the river. Some time ago large numbers of dead fish started appearing in the banks of the Paraná; pollution was blamed, but it turned out that the cold is the real culprit. Persistently cold temperatures made the fish sick and lowered their natural defenses. This happens from time to time.


We invaded the train station and then toured the main square and took pictures of the church.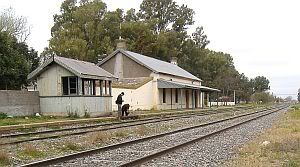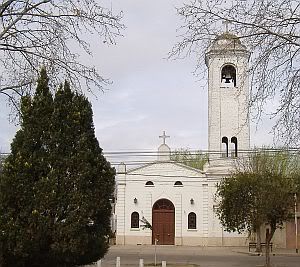 We also went to a replica of the Marian
shrine of Schoenstatt
. I don't really get what use it is to build a
copy
of a shrine (except as a tourist attraction). Sympathetic magic, maybe. Anyway, I reckon 25% of the group was agnostic or atheist, so this had more photographic and anthropological value than anything else. The shrine was nice enough (better ligthing would've helped).
All in all, a great day and a great place. No major tourist attractions, just gems known to the locals, mostly.
If you're in Rosario, you can get to Granadero Baigorria easily: get out of the center through the Cruce Alberdi, go down Alberdi Ave., then the wide Rondeau Blvd., and then cross the municipal border under the Rosario–Victoria Bridge. That's it. The street changes its name to San Martín Ave., and goes on in a straight line. You'll see a collection of ugly buildings on your left: the
Eva Perón Hospital
. Keep driving and you'll be in Capitán Bermúdez, and then in Fray Luis Beltrán (these are smaller towns). After Beltrán is
San Lorenzo
, site of the only battle of the war of independence that was fought inside present-day national territory, and then Puerto General San Martín, and thus ends Greater Rosario.
The photographers' plague repeated itself, in slightly mutated form, the next day. I'll get to it tomorrow.