The trip from Neuquén to Junín de los Andes (which you saw in pictures in my last post) took about 6 hours. First we went west, into the arid central plain of the province, where pumpjacks stand solitary here and there, bobbing in slow motion. Then southwest, towards the Andes and the Lake District.


We arrived around 2 PM into a little bus terminal with a little wooden information booth beside the platforms. There we asked about La Casa de Aldo y Marita ("Aldo & Marita's House"), our chosen place of stay, and were promptly directed there. There was no need of a taxi, because Marita's is only 6 blocks away, one block from the river.

Junín de los Andes lies mostly between National Route 40 and the Chimehuin River, which forms its eastern border. To the west is the Lanín National Park; northwest you have Lake Huechulafquen and, north of it, the volcano that gives the park its name, Lanín, and the Mamuil Malal Pass to Chile.

The city itself is small, a town of about 10,000 residents with a few blocks of well-kept urban features and some commercial activity around a nice main square, plus quiet neighbourhoods of single-story houses and streets that gradually turn to gravel and dirt roads.


Our lodging was a
residencial
, that is, a kind of hostel that is fashioned out of someone's home.
Residenciales
tend to be more informal, cheaper, and obviously look more like houses than like hotels.
Aldo and Marita both run the place, but Marita is clearly the one in charge of the house and its temporary residents, while Aldo organizes fly fishing trips on the river and other aquatic entertainments for tourists, not necessarily the ones in the house. Marita also makes smoked trout and venison, which sell for steep prices in small amounts.
The place, as you'll see from the pictures, can only be described as "cozy" and "warm". You have all the things you can expect from a hostel (kitchen, sink, fridge, some supplies for common use, a common table), and one I hadn't seen before: an
asador
with
parrilla
, that is, a special brick oven and a grill to prepare and cook
asado
, inside the main room. On the other hand, Marita doesn't give you breakfast, but that's not that big a problem.
The
trouble with Marita's House is the wooden stairs and the upper floor in general. The whole house seems to bend and bow and it creaks loudly as you go upstairs to sleep, and once you're in your bed you can clearly hear everything in the common room. So you'd better be really tired when you go to sleep, or you won't be able to.
We stayed five nights, almost six days in Junín de los Andes, so this is only one of several posts, but I'll tell you from the start that I knew the best part of the trip was about to start as soon as I came into Marita's. People will tell you that Junín simply has too little of everything, but if you go there to rest, you'll find one of the most suitable spots for it; and if you're looking for simple adventure, you'll find it as well.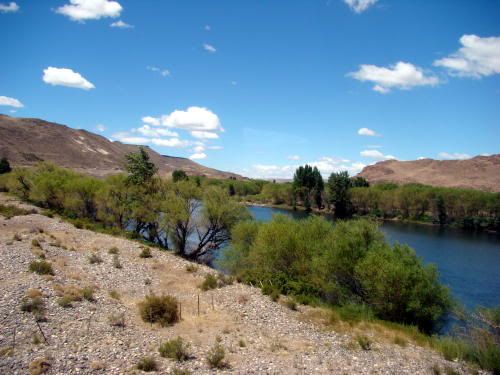 In practical terms, this whole area and especially Junín de los Andes is suited for budget travelers and backpackers and all others who, like me, don't care for pre-packaged tours. You can find accomodation in dozens of places. Buses come and go, taking you to places where you can experience the majesty of nature firsthand, and back to "civilization", cheaply, safely and quickly. Fellow travelers will engage you in conversation and give you all the best tips and hints. You can choose to walk around, wet your feet in the crystal-clear lakes and quick rivers, climb the hills, or just lie down in the grass. Nature's realm has only recently been invaded by humanity here. True, there are signs and roads, and trash where there shouldn't be, and every now and then a car will come by along the silent road, but that's about it.
Most important for us big-city urban dwellers, who have been increasingly forced to paranoia and mistrust of our fellow citizens, is that this place is one where you can stop looking over your shoulder all the time. You can be sent into a tourist trap by an agency, and you can be scammed, but you can also stay away from that and explore by yourself.
On our first day in Junín de los Andes we just tried to get our bearings — finding out where the center, main square, cybercafés, supermarkets, etc. were. As the sun came down a bit, we hit the square and just lied there with our
mate
(and my camera). The next day promised to be exciting, our first trip into the real Lake District.